Company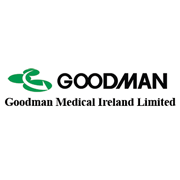 Goodman Medical Ireland Ltd
Let's create the Future together
Mervue Business Park Galway Ireland, Galway, Republic of Ireland
About Goodman Medical Ireland Ltd

Established in Galway in 2004, Goodman Medical Ireland Ltd (GMIL) specialises in the manufacture and development of cardiovascular catheters.

GMIL is a subsidiary of Goodman Co. Ltd. (Goodman), headquartered in Nagoya, Japan. The company has subsidiaries in Japan, Ireland and USA

Goodman Medical Ireland Ltd engages in manufacturing and automation as well as research and development

Manufacturing

GMIL specialises in manufacturing Class III medical devices within a world-class manufacturing environment. They have been manufacturing products since 2004. As a result, GMIL has built up relevant expertise in all areas of manufacturing. This includes handling product and process transfers to the scaling up of high volume commercial manufacturing.

GMIL has a purpose-built, state of the art manufacturing cleanroom facility designed and maintained to Class 10,000 standards. In addition, they have competent and experienced manufacturing operations team, combining best practices across production, engineering, quality assurance, supply chain and regulatory functions. The company also has process design, development, and validation capability. Therefore they can take products and processes from R&D design to full scale commercial manufacturing.

Automation

Goodman Medical Ireland Limited (GMIL) have a separate department dedicated to machine design, build and process automation.

GMIL can provide innovative custom designed manufacturing equipment and process solutions. The company has its own machine shop and assembly area that enables self-sufficiency for the majority of fabrication requirements.

R&D/New business development

Goodman Medical Ireland Limited has an R&D department to engage in business development. This initiative focuses on sourcing novel medical device technology opportunities across multiple medical device fields.

This programme was launched not only to complement GMIL's in-house resources and expertise, but also to contribute to corporate innovation through the fostering and developing of cutting edge medical products.

Careers at Goodman Medical

GMIL has been operating successfully since 2004. They have built their success on the belief that finding, employing and continually developing the right people is one of the keys to building safe and effective medical devices.