Company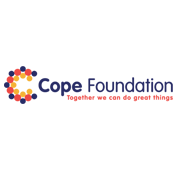 Cope Foundation
Together we can do great things
Cope Foundation, Bonnington, Montenotte, Cork., Cork, T23 PT93, Republic of Ireland
What Cope Does

Cope Foundation provides a wide range of services and supports.

Firstly, their Early Intervention service is for children with an intellectual disability from birth to 6 years of age. After referral the Early Intervention Team visit the child to make sure they get all the correct supports.

They also have support services for children and young people in primary, secondary and third-level education. In addition, the offer training supports for people who have left school.

Further services include housing supports, arts and creative therapies, physical activity and sports and supports for a short break from home.

Projects

Cope Foundation supports a number of projects and advocacy campaigns. One especially noteworthy project is "Grand Job?" This is a campaign helping people with intellectual disabilities to find paid employment. They also work in partnership with other countries in Europe.

History

Cope Foundation was originally set up in the 1957 as the Cork Poliomyelitis Association. Over the years, the organisation changed their services and supports. On the 5th December 1988 their name changed to Cope Foundation.