Company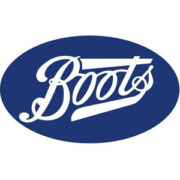 Boots
2f, Grange Castle International Business Park, West Park Nangor Road D12 PW60, Nangor Rd, Dublin 22, Dublin, Dublin 22, Republic of Ireland
Search for Boots jobs and career opportunities on Jobs365.ie.

In Ireland, there's a great sense of community that makes Boots staff feel good about delivering the best customer care possible. Whether you work in our pharmacies, retail or Support Office – the premier chemist company can give you limitless opportunities and amazing support to develop the career you want, whilst having fun along the way.

Pharmacist careers

Whether it's a part-time role or Supervisory Pharmacist, Boots can offer you a career that best suits you. Many of their Pharmacists also develop their careers into roles regionally and within the organisation's Support Office in Dublin. There is so much scope to use your expert knowledge – not just in the local community – but in other areas of the business too, such as services for care homes or the mentoring of summer interns. There are plenty of avenues you can go down with Boots that'll provide vast experience and enhance your career.

Pharmacy support jobs

Pharmacy Support Colleagues sit at the heart of their local community where they support patients and each other. As a Pharmacy Dispenser or Healthcare Advisor, you'll be an ambassador for Boots Ireland, being part of an inspirational team and delivering outstanding customer service every time. If you can express your passion for care and interpersonal skills, Boots will work on your commercial acumen and develop a great career.

Retail jobs

Boots go the extra mile to put a smile on the face of their customers and also their fellow colleagues. From Beauty to Healthcare, your role is key to helping Boots expand and become even more prominent for their customer care expertise. Additionally, they offer great support that enables their staff to progress their careers.

Office based careers

Whether you're skilled in Finance, IT, Marketing or Human Resources, Boots are always on the lookout for talented individuals to help them continue expanding their successful and established brand in the local communities across the country.

Career development

If you like the idea of a career with Boots Ireland,they are ready to support you in your training and development. Their learning and development programmes, courses and practical training provide you with the tools you need to progress in your career at Boots Ireland. Furthermore, it will help you achieve both your personal and business goals.