Company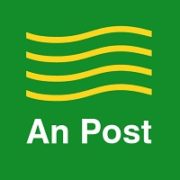 An Post
O'Connell Street Lower, North City, Dublin 1, Dublin, Dublin 1, Republic of Ireland
Ireland's latest careers board, Jobs365.ie, lists An Post jobs that are available throughout the country.
An Post is a vital commercial enterprise that offers extensive communication, retail and currency transmission services. They employ nearly 9,500 people through their national mail and retail network. Thus, making them one of Ireland's largest companies. Additionally, An Post is an equal opportunities employer, supporting a diverse and unique workforce.
 External Recruitment Policy
An Post recruit all their staff externally. They look for people to fill positions in sales, marketing, finance, IT, technical roles and entry level. Consequently, interested applicants must search for advertised jobs through a combination of advertisements in newspapers, through FAS and online, including this website. Selection for employment is determined at the end of a competitive process involving aptitude tests, interviews, medical examination, security clearance and reference checks.
  Applicants for employment in An Post must:


demonstrate a good level of oral and written English


express great customer service and interpersonal skills


be a team player


possess basic computer skills


prove eligibility to work in Ireland


 Selection Process


 Application form or CV as set out in the vacancy notice


Aptitude tests: verbal, numerical, classification. You must pass the aptitude tests to be invited to the interview stage


Interview: this will be a competitive interview in which the candidate will have to demonstrate to the interview board that he/she meets all the requirements for the job.


Medical Examination: candidates have to undergo a pre-employment medical examination at the Company's expense to ensure that they are medically fit for work


Security Clearance: because of the nature of the An Post business, the need to maintain customer confidence and to protect the Company's assets, interests and good name, convictions for certain criminal offences or membership of a proscribed organisation could be considered incompatible with employment in An Post.


References: candidates will have to provide satisfactory employer and/or character references.