Company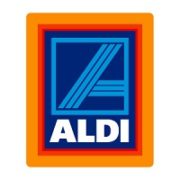 Aldi
Newbridge Road, Naas West, Naas, Co. Kildare, , Kildare, W91 VE40, Republic of Ireland
Find Aldi jobs listed on Jobs365.ie. The supermarket giant is always looking for new talent for their retail, logistics, head office roles and much more.

Aldi is one of the fastest-growing grocery retailers in Ireland today and have been listed in the gradireland 'Top 100 Leading Graduate Employers' for over ten years. They are also ranked 3rd in the Times Top 100 'Best Graduate Employers' for 2017. It's a position that no other retailer has been able to match. All of their graduates join the Aldi Graduate Area Manager Training Programme, which has generated a fine reputation across college campuses throughout Ireland.


Graduate programme
There is no denying that it's hard work. However, there's unique and rewarding benefits to take into account for that honest hard work. Aldi are a responsible employer that thrives on giving graduates unparalleled exposure, training and support. They challenge graduates because they want them to do well, but they're there lending support every step of the way. You're
critical
to the future success of their business. In fact, the majority of the company's Directors started their Aldi life on the programme. They understand that drive and focus is the only way to achieve great success. 
Eventually, you could be running your own multi-million euro business.
Head Office

At Aldi you'll find the dedicated team of staff sharing a fast-moving, dynamic, open plan environment. They call it the 'engine room' because everything that happens there drives the Stores side of the business.



Careers are available in 

Administration

,

Buying

,

Corporate Responsibility

,

Marketing & PR, Recruitment & Training and Property

to name but a few.

It's a place where you're trusted to think for yourself, and take complete ownership over your role. What's more, because Aldi are one of Ireland's fastest-growing supermarkets, you get to do far more than you would anywhere else. For instance, if you've got a great idea that'll help everything run even smoother and more effectively than it does now, you'll be encouraged to put it into practice. 
Retail
If retail's your thing and you're intrigued by the Aldi story, this is your chance to gain the perfect insight. Their 6,9 and 12 month placements offer intensive training across their Store, Logistics and Office environments, so you can see how we tick from every angle. More than that, you'll learn a lot about yourself, as you tackle brand-new situations and prove your worth in our extraordinary retail environment. Don't forget, they've achieved success through absolute determination and extraordinary focus so they're on the prowl for go-getters.
Logistics


Aldi stores are springing up all over the country. In fact, they're now one of Ireland's fastest-growing supermarkets. But while the company is satisfied with the vast queues of vehicles coming out of the car park, they also know that a perfected logistics strategy is more essential than ever.


So what can you expect from the Logistics department of Aldi? Market-leading pay, first-class equipment and a strong culture of recognition, trust and clarity. Employees feel completely respected, listened to and integral to the business.
Aldi Managers feel empowered to make their own decisions. Their Selectors can see exactly how they fit into the bigger picture and are loving their role. The fact is, people might apply for the generous pay or the quality equipment – but they stay for an awful lot more.
Showing 1 - 6 of 6 jobs in